Being Green: Working Toward a Sustainable Future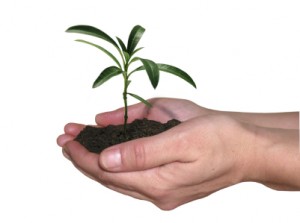 Kermit the Frog was right – it's not easy being green. When the famous Muppet and Sesame Street star performed his hit song, "Bein' Green," he described a lonely path of self-discovery. Kermit sang:
It's not that easy being green;
Having to spend each day the color of the leaves.
When I think it could be nicer being red, or yellow or gold…
or something much more colorful like that.
There was something about Kermit's coming to a place of self-appreciation for his individuality – acceptance of his greenness and, therefore, the sacredness of everything around him – that tapped into the healing power of love that the song expresses. With a deepening heart, Kermit mused:
But green's the color of Spring.
And green can be cool and friendly-like.
And green can be big like an ocean, or important like a mountain,
or tall like a tree.
It is interesting to consider whether or not we – actual human beings, not puppets, per se – can be self-embracing without honoring and respecting our immediate and more global environment in similar ways. Logically speaking, can we treat ourselves any better than we treat Mother Earth? How can we look lovingly in the mirror each morning if our day is spent abusing and neglecting the planet's natural resources, irresponsibly littering and paying no mind to the carbon footprint we leave behind? It's all about mutual regard – to fully honor myself, I must honor the world around me.
Maybe the best thing we can do to help ourselves – and to encourage the growth of our individual human potential – is to commit to becoming fellow guardians of the earth, overseeing in our own ways, in our own neighborhoods, unique contributions to the trend toward sustainability. A single plastic grocery bag, for example, could take up to 1,000 years to disintegrate in a landfill. Even small steps toward recycling represent enormous strides forward in an eco-conscious, sustainable world.
Various definitions of the word sustain include: to support, to hold; to maintain; to keep in existence; to supply with necessities or
nourishment; and, to keep up competently. Sustainability is the capacity of a structure or community to maintain itself, in other words, to be "selfsustaining" so that it is ecologically and economically viable in the short and long term. Sustainable infrastructures are capable of being maintained with minimal negative long-term effect on the environment, leaving the Earth as close to its original, pristine nature as possible. Philosopher J. Krishnamurti was fond of stating that true knowledge came from the understanding that "I am the world, and the world is me."
In economic, emotional and ecumenical terms, the greening of America has become the great hope for our country's future. Themovement
is led by an inter-generational gestalt energetically and unapologetically making itself heard through voting power, monetary strength and its
hold on popular culture.
In a survey of baby boomer spending habits conducted by global public relations firm Weber Shandwick, "a sizable 42 percent of boomers' purchasing decisions" were influenced by "a company's social or environmental policies." And, according to the study, "attention to social responsibility" is an even greater factor in the purchase decisions of Gen Xers: 46 percent. Developing "social and environmental policies" and maintaining "attention to social responsibility" are the marks of a future-oriented policy polemic, as well as a commercial, political and ethics-based worldview that dares to weigh rewards and benefits on a more global, far-ranging scale.
President Barack Obama, in one of his first speeches of the new year, stated that as a nation, we need to "trade old habits for a new spirit of responsibility" and defined the mission of his administration by insisting that "the first question each of us asks isn't 'What's good for me?' but 'What's good for the country my children will inherit?'" "Renewability isn't pie-in-the-sky," President Obama said. "It is happening right now."
Being green isn't easy. In author Stephanie Kaza's new book,
Mindfully Green: A Personal and Spiritual Guide to Whole Earth Thinking, she argues that in order to be successful at it, being environmentally and sustainability- conscious must become a spiritual path. "If we engage green living in more depth," Kaza explains, "it becomes an expression of our deepest moral values. The 'work' of green living becomes less a chore and more a locus of ethical development. We conserve water not because we should be frugal but because we respect the Earth's resources." In this way, "the conversation moves from personal sacrifice to real consideration of the nature of our connection with the Earth," Kaza says. "When we come to see ourselves as part of the great web of life, in relationship with all beings, we are naturally drawn to respond with compassion." Thus "being green" becomes a way to discover within each of us a happier, more compassionate, grounded and self-confident human being. Interestingly, we find that caring for the world helps us to accomplish personal goals in unexpectedly effective ways.
The Omega Institute, in Rhinbeck, N.Y., is one cutting-edge example of a community aiming for 100 percent sustainability. At the Omega Center for Sustainable Living (OCSL), the emphasis is on generating the community's resources from within. "Omega holds sustainability as one of its core values," its Web site states. "We consider the impact of our actions, advocate for fairness in the treatment of all living things, and make decisions for the common good." For a price tag of $2.7 million, the OCSL says it will protect its local ecosystem, preserve its freshwater resources, and serve as a community resource, "demonstrating sustainability, ecological responsibility and green alternatives, reminding all of us that if we take care of the Earth, the Earth will take care of us."
It is true that being green may not be easy, but working toward local and global sustainability is good for both our inner and outer environments. It is nourishing for the planet at the same time that it sustains each one of us – and all those yet to come. As Kaza found, "Thousands of people are living their own inspiring stories as they find a way to share their green ethics on behalf of a more peaceful and genuinely happy world."
So, as Kermit the Frog realized, being green is important, like a mountain, when we consider the country our children will inherit.
This first appeared in Ambassador Magazine, Detroit, Michigan.
Tags:
children
,
environment
,
future
,
mindfulness
,
sustainable