Addictions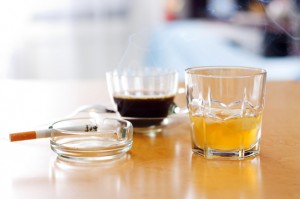 Addictions and addictive behaviors are appealing because they offer immediate relief from psychological pain and anxiety. However the relief is only temporary; they never provide a lasting solution to our problems. When we "sober up" we find that our emotional pain is still there.
A serious side effect of addictive behaviors is that they do not only cut off pain and anxiety, they cut off all feeling. They leave us emotionally numb and unable to experience of life. What are addictive behaviors that might be cutting you off from feeling and causing you to be disconnected from yourself?
1. Addictions to substances
The easiest types of addictive behaviors to identify are addictions to substances. Our emphasis is not on the chemical aspect of addictions but on understanding the psychological purpose they serve in relieving a person of pain and anxiety.
The most obvious addictions are those that involve alcohol, cigarettes and drugs. We are all familiar with the feeling "Right now I really need a cigarette…or a glass of wine…or a cup of coffee…or a valium." These types of thoughts can be clues to you that you are using substances as painkillers.
We are also familiar with rationalizing–the process addicts use to justify their destructive behaviors. "I don't have a smoking problem because I know I could stop whenever I want to." "I don't have an issue with drinking; drinking red wine every day is good for me." "I don't have a drug problem; these were prescribed to me by my doctor."
Think about your thoughts. Do you find yourself wishing for a cigarette, a cup of coffee, a drink, a pill when you feel stressed or tense? Do you find yourself rationalizing your use of any addictive substances? Could you be using alcohol, cigarettes or drugs to cut yourself off from your feelings?
2. Addictions to food
Food can serve an addictive purpose. When it does, people's eating habits take on a meaning beyond the simple enjoyment and gratification of physical hunger. Many people who suffer from eating disorders are utilizing food as a source of emotional gratification.
This process often starts early in life when eating becomes the primary focus for the child who is starved for affection, attention or care. When we abuse food, when we indulge ourselves by overeating, we are protecting ourselves by in effect saying, "I don't need anything from anyone. I can feed myself!!" Even the anorexic person, in refusing to eat, is still saying "I will not take food from anybody, I don't need anything from anybody, I control what goes in my body!!"
Think about your eating habits. What function does food serve in your life? Could you be using food in an addictive way?
3. Addictions to activities or routines
These types of activities are harder to recognize as being harmful because they involve behaviors that are socially acceptable. Society applauds the person who works hard, who is organized, who is physically fit. Therefore, it is easy to not recognize that the workaholic, the obsessive compulsive, the fitness fanatic are people who are hurting themselves.
There are many ritualistic or repetitive behaviors that can be used as painkillers. Almost any behavior, when used repeatedly, will cut us off from feelings and therefore become addictive. This is why we feel compelled to overwork, shop too much, exercise too hard and spend too much time watching television, playing video games, browsing the internet, reading, gambling, and the list goes on. The predictability and certainty of routines also act to temporarily reduce tension and anxiety. This is why we want to structure our lives with the same daily schedule, the same weekly diet, the same annual vacation.
Think about your daily life. What are the activities that you may be utilizing in a repetitive, ritualistic way? Could you be using compulsive activities and routines to avoid feeling?
4. Addictions to sex
When young children are hurting emotionally, they realize that they can make themselves feel better by stroking and soothing themselves. Later, when they discover that touching themselves on the genitals is pleasurable, they can use masturbation as an escape from their psychological pain. Masturbation can become addictive because it is such an instant tension reliever. There is nothing wrong with masturbation but as with other activities, it can be destructive when used compulsively as a painkiller to cut off from feelings.
Think about how you feel when you masturbate. Are your thoughts and feelings at the time taking you away from your real life experience? How do you feel afterwards? Do you feel good or do you feel "out of it?" Could you be using masturbating as a way of cutting off from your feelings?
Sex, like food, is a vital enjoyable part of life that, when misused, can be serve an addictive purpose. Compulsive sexual activity and promiscuity cut a person off from feelings. During this type of cut off sexual interaction, a person is usually involved in an inward impersonal fantasy world. Sex is being used as a way of soothing and numbing oneself, not as a way of relating with another person.
Think about how you relate sexually. At times, do you find yourself emotionally removed from your partner and caught up in fantasy or the physicality of sexuality? Could you be using sex to cut yourself off from your feelings?
If you are dealing with an addiction, do not hesitate to seek help. There are many programs, services and therapeutic approaches that can help you overcome addiction.
You can find substance abuse treatment near you at:
The Substance Abuse Treatment Facility Locator (U.S. only)
Find a psychologist near you:
http://locator.apa.org/
Here are some additional resources on addiction:
National Institute on Drug Abuse
American Psychological Association – Addiction
The Partnership for a Drug-Free America
Alcohol Addiction and Substance Abuse
If you feel you may be suffering from an eating disorder, do not hesitate to seek help. Here are some resources on eating disorders:
www.iaedp.com
www.nationaleatingdisorders.org
www.edreferral.com
www.eatingdisorderhope.com
www.somethingfishy.org
www.mirror-mirror.org
Related Books:
Tags:
addiction
,
alcohol
,
dependence
,
drugs
,
fight addiction
,
sex addiction
,
substance abuse
4

Comments