Fear of Intimacy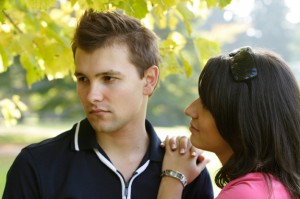 There's one sad truth in life I've found
While journeying east and west –
The only folks we really wound
Are those we love the best.
We flatter those we scarcely know,
We please the fleeting guest,
And deal full many a thoughtless blow,
To those who love us best.
This amusing little poem isn't so amusing when we consider just how true it can be when it comes to our intimate relationships. Why is it that we treat those we love worse than we treat anyone else? Why is it that even though we say we want love in our lives, when it shows up, we often shun it or somehow inadvertently push it away? Though we may not be entirely aware of it on a conscious level, most of us have a certain amount of fear of intimacy.
Where this fear originates is a subject often left unexplored. Yet one of the unfortunate truths about life is that there is no such thing as a perfect childhood. There can't be. Even the perfect parent can't anticipate and respond to every single need of the child. No matter how good parents' intentions are, there are times when they cannot help but frustrate their children and cause them pain and suffering. Add to this, the fact that parents are real people with real limitations. They can be immature, self-hating, irritable, angry, suspicious or overly critical. And regrettably these limitations tend to impact how they parent their children. From this less than perfect experience, children grow up with a less than perfect image of themselves.
As a result, people arrive at adulthood psychologically equipped to survive in the type of emotional environment that they have come from. But it is a whole different world out there. That is why, when someone falls in love with us, the experience seems so alien. We are being seen in a completely different way than we were seen as children and than we have come to see ourselves. Our lover's positive feelings toward us are foreign and unfamiliar.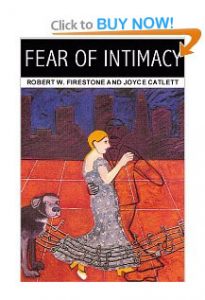 In their introduction to their book Fear of Intimacy, Robert Firestone, Ph.D. and Joyce Catlett, M.A. state:
"The average person is unaware that he or she is living out a negative destiny according to his or her past programming, preserving his or her familiar identity, and, in the process, pushing love away. On an unconscious level, many people sense that if they did not push love away, the whole world, as they have experienced it, would be shattered and they would not know who they were."
Once we have arrived at the moment when the storybooks tell us that we are going to live happily ever after, we instead find ourselves facing one of our toughest psychological challenges, separating our present from our past. In order to have that happy ending, we have to dismantle the defenses that helped us cope during our upbringing, so that we can respond appropriately to this new and loving situation. We have to go against the tendency to be suspicious and distrustful of someone who treats us nicely. We have to resist being critical of someone who loves us. We have to stop ourselves from brushing off their compliments and dismissing their loving words.
It is helpful to examine your childhood and, specifically, how you were treated and seen in your family. Have these become part of your identity today? Think about how you coped when you felt sad or hurt. Are these still ways that you defend yourself from being vulnerable today?
According to Dr. Dan Siegel, neuropsychologist and author of Mindsight, "Adult attachment research shows that it is not what happened to you as a child that matters; it's how you make sense of what happened to you. If you focus your attention on your own history and in a methodical way, go through your memory systems, your narrative systems, you actually can liberate yourself from prisons of the past."
Once you are able to understand how your defenses were formed, you can start challenging them in your current relationship. To read  more on fear of intimacy click here. To read more on overcoming fear of intimacy click here.
Tags:
anxiety
,
fear
,
fear of intimacy
,
intimacy
,
love
,
relationship
,
relationships
,
worry
One

Comment