Taking the Competition Out of the Holidays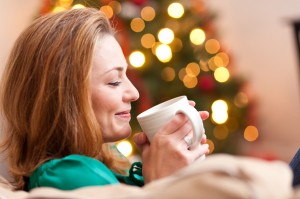 With Thanksgiving behind us, most of us are slowly awakening to the realization that Christmas is right around the corner. And thus begins the Running of the Holiday-Crazed. Similar in many ways to Pamplona's famed Running of the Bulls, but with only slightly fewer steaming piles to maneuver around.
Sadly, this analogy was more on target than anyone would have imagined when said Holiday-Crazed customers trampled a Wal-Mart employee to death in Long Island, NY, a couple of years ago. And every year since, something similar happens on the aptly-named Black Friday. Honestly, people, it's Wal-Mart. The same cheap junk will be there tomorrow. Clearly we have been blinded by the competition, the frenzy, the consuming desire to find that Most Perfect of Gifts that will solidify our standing as the Family's Best Relative. Of course, this is a fruitless quest that can easily be undone by one really great shiny ribbon that will become the constant companion of your three-year-old niece for the next month.
The spirit of the holidays has been trampled as our consumerism feeds on the belief that "what I give determines my worth as a person". Professional insight: This isn't true. God bless the recession, though. With fewer pennies jingling around in our piggy banks, we have to be creative in our gift-giving, and even come back to why we celebrate to begin with. We would do well to learn the lesson most Italians have long embraced: Il bel far niente, the beauty of doing nothing.
Elizabeth Gilbert describes this joie de vivre mentality in her memoir, Eat, Pray, Love (side note: why are all the great terms of happiness and contentment expressed in another language? Hmmm…). She immersed herself in Rome, Italy, for four months and discovered it to be worlds apart from her native New York city, literally and figuratively.
"The beauty of doing nothing is the goal of all your work, the final accomplishment for which you are most highly congratulated. The more exquisitely and delightfully you can do nothing, the higher your life's achievement. You don't necessarily need to be rich in order to experience this, either. There's another wonderful Italian expression: l'arte d'arrangiarsi – the art of making something out of nothing. The art of turning a few simple ingredients into a feast, or a few gathered friends into a festival. Anyone with a talent for happiness can do this, not only the rich…
Which is probably why, when I told my Italian friends that I'd come to their country in order to experience four months of pure pleasure, they didn't have any hang-ups about it. Complimenti! Vai avanti! Congratulations, they would say. Go ahead. Knock yourself out. Be our guest. Nobody once said, 'How completely irresponsible of you,' or 'What a self-indulgent luxury.' "
I say we declare this holiday season as Year of Il bel far niente. Finding time to do nothing and do it well. Placing value on peace of mind and body, rather than condemning someone who might desperately want, more than anything this year, to just be. That may be the greatest gift of all.
Tags:
holidays
,
mindfulness
,
personal growth
,
psychological advice
,
psychological tips
,
self-awareness
,
self-esteem
,
self-understanding
,
stress
,
stress management
,
well-being