I Hate Myself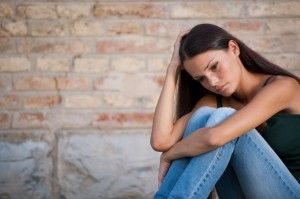 For most of us, the expression "you are your own worst enemy" holds a lot of truth. It's a painful reality that much of what limits us in our lives is our own feelings of unworthiness and self-hatred. "I hate myself" is a fairly common thought.
But where do these feelings come from? How do they influence us? And how can we push past them to live a life free of the harsh attitudes of our inner critic?
The Critical Inner Voice and Self-Hatred
In their research, psychologists Dr. Robert and Lisa Firestone found that the most common self-critical thought among a diverse population of subjects tested is "You are different from other people." Most people see themselves as different, not in some positive or special way, but in a negative sense. Even people who seem well-adjusted and well-liked in their social circles have deep-seated feelings of being an outcast or a fraud.
This feeling about ourselves is common because every person is divided. As Dr. Robert Firestone has described, each of us has a "real self," a part of us that is self-accepting, goal-directed and life-affirming as well as an "anti-self," a side of us that is self-hating, self-denying, paranoid and suspicious. The anti-self is expressed in our "critical inner voice." The critical inner voice is like an internal coach negatively commentating on our lives, influencing how we behave and how we feel about ourselves. It's there to undermine our goals: "Who do you think you are? You'll never be successful!" It's there to undercut our accomplishments: "This won't end well. Sooner or later you're going to mess up." It's there to sabotage our relationships: "She doesn't really love you. You shouldn't trust her." It's even there to criticize those close to us: "Why does he even hang out with you? There must be something wrong with him." Finally, this voice can seem self-soothing, coddling us yet encouraging us to act in ways that our self-destructive, then punishing us for messing up: "Go ahead, have that second piece of cake. You've had a rough week you deserve it." Later, it will fire with comments like: "You're such a fat loser. How could you mess up on your diet again?"
While it may seem unnatural to view ourselves through this outside lens, we all possess this critical inner voice. For many of us, this thought process is so engrained that we hardly notice when it arises. Instead of recognizing this voice as the destructive enemy that it is, we mistake it for our real point of view, and we believe what it tells us about ourselves.
"Why do I hate myself?"
"I hate myself" is a sadly common critical inner voice that people of all ages struggle with. Where then, do thoughts like these come from? What Dr. Robert and Lisa Firestone have found in their research is that these thoughts originate in negative early life experiences. The way we are viewed growing up and the attitudes directed toward us shape how we see ourselves. Harmful views directed at us by parents or other influential caretakers are internalized to make up our self-image. Just as our parent's positive attitudes toward us may lead us to develop self-esteem and confidence, their more critical attitudes can promote just the opposite.
The point here is not to blame parents. However, it's important to realize that no parent, or person for that matter, is perfect. Parents face a difficult struggle when they have children, as painful feelings arise from their own past. They may therefore react inappropriately or critically toward their children in moments of stress. Moreover, the critical feelings parents have toward themselves often come across to their children and are then internalized by the child. For example, if we had a parent who often acted like we were a nuisance, constantly quieting us or even just feeling tense in our presence, we may take on a feeling about ourselves that we are a bother. We may become overly shy or apologetic in our adult lives, quieting ourselves in our careers or taking a submissive position in our relationships.
Length: 90 Minutes

Price: $15

On-Demand Webinars

In this Webinar:  We all experience moments of utter despair in which we think "I hate my life." Whatever we feel is going…
"How does self-hatred affect my daily life?" – The Effect of Your Critical Inner Voice
As adults, our critical inner voice impacts us in a variety of ways. We may adapt to it by treating it like a coach and listening to its destructive advice. When it repeatedly tells us we are worthless, we may choose friends and partners who treat us as if we are worthless. If it tells us we are stupid, we may lack confidence and make mistakes we wouldn't make otherwise. If it tells us we aren't attractive enough, we may resist putting ourselves out there and seeking a romantic relationship.
When we listen to our inner critic, we give it power over our lives. We may even start to project these critical thoughts onto others. We run the risk of starting to perceive the world through its negative filter. This is where paranoid and suspicious thoughts enter the picture, as we start to question or criticize people who see us differently from how our voice sees us. For example, we may struggle with positive acknowledgment or feedback, as it contradicts the ways we perceive ourselves. We may have trouble accepting love, as we fail to challenge our inner critic. While this voice is painful, it is also familiar. It's been engrained in us since early childhood, and we therefore often struggle just to recognize it, much less challenge it.
"What can I do to stop hating myself?" – How You Can Conquer Your Critical Inner Voice
To stop our cycle of self-hatred and live free from imagined limitations, we must learn to challenge our inner critic. Overcoming our critical inner voice is the first step in a process of differentiation described by Dr. Robert and Lisa Firestone in their book The Self Under Siege. The book describes the four steps of differentiation, starting with breaking with the destructive thoughts and attitudes you've internalized toward yourself. Voice Therapy is a process that can be used to help people identify and challenge their critical inner voice. The process involves developing insight into the sources of these critical thoughts, then answering back to these attacks with a more compassionate and realistic point of view toward yourself.  The next step is to challenge the destructive behaviors that the critical inner voice encourages you to engage in.
The second step of differentiation involves challenging negative traits in yourself that are imitative of your parents or other important figures in your development.  If you had a bossy or demanding father, for example, you should try to challenge ways that you yourself are controlling in your life. The third step of differentiation involves giving up the patterns of defense you formed as adaptations to the pain you experienced in your childhood. We may have formed these defenses as a form of protection as children, but these thoughts and behaviors can hurt us in our adult lives. For example, if you felt intruded on as a kid, you may have grown up seeking isolation or keeping to yourself for fear that you will be intruded on by others. You may thus avoid close relationships or harbor fears of intimacy. When we hold on to destructive adaptations from our past, we tend to suffer from lower self-esteem. We may struggle to feel like our true selves when our actions are so heavily influenced by our history.
Thus, the final step of differentiation involves figuring out your own beliefs, values and ideals. How do you want to live your life? What are your aspirations for your future? When we separate from our inner critic, we are far better able to get to know our real selves and to lead our lives with integrity. We can take actions and steps that reflect our wants and desires, which gives our lives unique meaning. As we pursue this goal of becoming our true selves, we may experience an increase in anxiety or an influx of critical inner voices. However, if we persist in challenging this internal enemy, it will become weaker and we can free ourselves further from feelings of self-hatred and start to live a more fulfilling existence.
Sign up for STOP HATING YOURSELF!
A Webinar with Dr. Lisa Firestone
Tags:
critical inner voice
,
self-critical thoughts
,
self-deprecation
,
self-esteem
,
self-hate
,
self-hatred
293

Comments