How Trauma Is Impacting Our Culture and What We Can Do to Help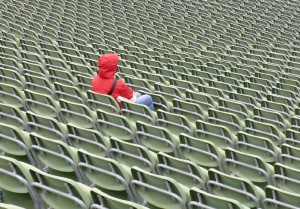 In some ways it seems that to grasp the prevalence of trauma experienced in our society, one need only look as far as the past few weeks' headlines. The devastating shooting in Aurora, Colo. marked an extreme act of violence that truly shocked our nation. Time magazine's painful cover story "One a Day" brought attention to the high rate of military suicides in 2012, which have exceeded the number of U.S. forces killed in action in Afghanistan this year by about 50 percent. The rate of military personnel and veterans who suffer from PTSD after prolonged and repeated tours of duty in dangerous, violent conditions have mental health professionals asking how we can get traumatized individuals the help they so greatly need.
Yet, events that spark psychological symptoms of trauma don't always take place in the public eye. Child abuse and domestic abuses occur behind closed doors and at rates that are startling, to say the least. According to the U.S. Department of Health and Human Services Administration for Children and Families, in 2010 there were 3.3 million reports of child abuse made in the United States involving the maltreatment of nearly 6 million children. A July report from the journal Pediatrics showed an increase in child abuse may be linked with the recent recession. With events that could lead to "simple" to "complex" trauma taking place every day, it is invaluable for us to gain a better understanding of trauma and how we can recognize and treat those affected.
The American Psychological Association (APA) describes trauma as the following:
"Trauma is an emotional response to a terrible event like an accident, rape or natural disaster. Immediately after the event, shock and denial are typical. Longer term reactions include unpredictable emotions, flashbacks, strained relationships and even physical symptoms like headaches or nausea."
Common emotional and cognitive symptoms of trauma, as listed by APA, include: intense and sometimes unpredictable feelings such as increased irritability, mood swings, anxiety, nervousness, or depression, new and unusual thoughts and behavior patterns such as vivid, repeated flashbacks, difficulty concentrating or making decisions, confusion, or disruption in sleep and eating patterns. These may also include physical symptoms like headaches, nausea, and chest pain.
On September 10, I will host a free one-hour webinar featuring trauma expert Dr. Christine Courtois. In her online presentation, "Understanding Trauma, from 'Simple' to 'Complex,'" which is open to the public, she will discuss the nature of trauma and traumatic stress, different types of trauma from simple to complex, common responses in the immediate and long-term aftermath, variable adaptations to trauma, and resiliency factors. In her introduction to her webinar, Dr. Courtois wrote that:
"Over the course of the last 30 years, major advances have been made in the study and understanding of psychological trauma and human responses to it. The field of traumatic stress studies has developed rapidly during this time, offering new understanding and hope to those who have experienced, witnessed, or otherwise been exposed to traumatic events."
It's clear from our emotional reactions to events like the Colorado shootings or the high rate of military suicide that we are all impacted by even hearing about trauma, let alone experiencing it directly. The "new hope" Dr. Courtois describes involves the fact that today we not only have a better understanding of what goes into causing trauma but of what we can do to help people who've been exposed to or witnessed trauma. Recognizing people who've been impacted is a first step in starting people on their journey to find the treatment that will be most helpful to them.
It is important to note that different types of trauma require different types of treatment. An example of an event that can lead to simple trauma might involve an individual incident of dramatic pain, fear, or stress, such as a car accident or an earthquake. Complex trauma is a condition caused by chronic, repeated, or cumulative instances of shock and/or distress. Examples of events that can cause complex trauma include child abuse or repeated deployments to warzones. As you can imagine, resolving complex trauma requires a more complex, integrated, and sequential approach to treatment. Dr. Courtois has noted that: "Most adults, even when seriously traumatized, have posttraumatic reactions and do not develop PTSD. However, complex trauma, especially over the course of childhood most often leads to PTSD."
It's important for people who suffer with trauma to get the treatment that's appropriate to their unique experiences and that is sensitive to the specific symptoms they are struggling with at the moment. For those suffering with complex trauma, symptoms can include difficulty regulating their emotions, alterations in consciousness or identity, intense feelings of guilt or shame, disassociation, or changes in their perceptions of the people around them or their systems of meaning.
Treatment for this condition involves three stages, the first Dr. Courtois describes as focusing on "safety, stabilization, and establishing the treatment frame and the therapeutic alliance." In her article, "Understanding Complex Trauma, Complex Reactions, and Treatment Approaches," Dr. Courtois wrote:
"Skills to be developed include healthy boundaries, safety planning, assertiveness, self-nurturing and self-soothing, emotional modulation, and strategies to contain trauma symptoms such as spontaneous flashbacks and dissociative episodes."
The next stage of treatment involves "revisiting and reworking the trauma with careful processing to integrate traumatic material along with its associated but often avoided emotion." The third stage of treatment involves "identity and self-esteem development and concurrent development of improved relational skills and relationships."
One of the major difficulties associated with trauma is that when it's unresolved, new events that are stressful or that might trigger certain emotions can exacerbate a person's traumatic reactions. A common picture that comes to mind when we hear the term PTSD is of a war veteran, set off by a loud noise, experiencing a flashback to battle. As people learn to deal with the symptoms that are most prevalent in the moment, they are able to build their resilience and better cope with future stressors.
Because trauma describes an experience that overwhelms one's ability to cope, it is essential that those affected learn new ways to feel safe and to strengthen their resilience. There are many strategies that have proven successful in helping individuals overcome trauma. These approaches typically involve psychotherapy supplemented by psychopharmocology but can be aided by many beneficial techniques that range from practicing yoga to learning mindfulness. In today's social and political climate, educating ourselves on the symptoms and treatment of trauma is invaluable. It can mean identifying one more person who is in trouble and directing that person to help. Fortunately, treatment is both available and effective. It can lead to increased resilience, emotional growth, and can even save a life.
Need help? In the U.S., call 1-800-273-8255 for the National Suicide Prevention Lifeline.
—
Join Dr. Firestone and Dr. Courtois for the Sept. 24 CE Webinar, "Complex Forms of Post-Traumatic Stress Disorder" or the Sept. 10 free webinar for the public, "Understanding Trauma, from 'Simple' to 'Complex.'"
Learn more about Dr. Christine Courtois at DrChrisCourtois.com.
Tags:
Post-traumatic stress
,
PTSD
,
trauma