What is Killing Our Soldiers?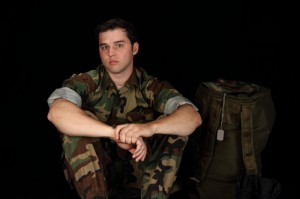 The Time Magazine cover story, "One a Day" recently alerted us to the heartbreaking high-rates of suicide among our military. In June, The Associated Press reported that "the 154 suicides for active-duty troops in the first 155 days of the year far outdistance the U.S. forces killed in action in Afghanistan – about 50 percent more." In July, the Army suicide rate doubled that of June. Sadness and disbelief seem to be normal reactions to these statistics, as they leave each of us to shake our heads in dejection, silently wondering why this is happening and how we can stop it.
What is driving these military men and women to end their lives?
It's no secret that the highly stressful, often traumatic conditions of war can have psychological and physiological effect on one's mental health. Many soldiers suffer from the stresses inherent in their military service.  Many who have been deployed and redeployed suffer from PTSD, resulting from exposure to the horrors of a war. The stress and injuries, including Tramatic Brain Injury, that our fighting men endure can create changes in the brain that impact mood and impulsivity, making it more likely for them to engage in or act upon self-destructive inclinations.
Additionally, the military's "man up" mentality is destructive to someone who is struggling with their mental health or having thoughts of suicide. David Rudd wrote in USA Today, "The military is not a culture that embraces perceived weakness or illness; it's contrary to the notion of an effective fighting force." Recent comments from Major General Dana Pittard, who commands one of the country's biggest Army bases, illustrate the destructive and uneducated attitudes certain authoritative military members can have toward suicide. Pittard was heavily criticized for writing that he is '"fed up with soldiers who are choosing to take their own lives," referring to them as "selfish" and telling them to "act like an adult." Statements like these can only hurt someone at-risk for suicide. These men and women need help, support, and encouragement in their fight against their own self-destructive thoughts. The overall attitude of the military, in which individual human interests are subjugated to the greater value of the unit, can further contribute to feelings that you don't matter as a person or an individual, or a lack of self-worth.
Suicide expert and Dean of the College of Social & Behavioral Science at the University of Utah and Scientific Director wrote in The New York Times,
The Department of Defense has done a remarkable and admirable job of increasing access to mental health care and combating stigma, work that will change the field significantly for decades to come. Regardless, though, the warrior culture does not embrace psychological injury, with large percentages of those suffering opting not to pursue care. The net result is an increase in personal suffering, high divorce rates, escalating numbers of service members dying by suicide, and families left to grieve tragic and unnecessary losses.
So what can our government do?
On August 31, in a speech to soldiers at Fort Bliss, President Obama addressed the seriousness of increased suicide and mental health issues in the military.  Obama said, "Today I've signed a new executive order to give our troops, our veterans, and our families better access to mental health care. We're going increase the number of folks manning those crisis hotlines, so help is there when you need it most. We're going to add even more counselors and mental health providers. We're launching a new awareness campaign, starting tomorrow, and I'm directing a new task force to find out what works best, so we're doing everything we can to help those in need and save lives."
Specifically, this executive order directed the Veterans Administration to hire 1,600 new mental health professionals and to expand the capacity of its crisis line so those who are in crisis can see a counselor within 24 hours. The VA will also hire 800 peer support counselors. Paul Sullivan, the former executive director of Veterans for Common Sense, said, "This is an unexpected and very positive move in the right direction. It's not just a step. It's a huge leap." The new task force will recommend other ways the government can help those suffering from traumatic brain injury and post-traumatic stress disorder.
Of equal importance was the statement that Obama directed to the soldiers: "I know that you join me in saying to everyone who's ever worn the uniform, if you're hurting, it's not a sign of weakness to seek help. It's a sign of strength." As he spoke to remove the stigma against admitting to suicidal feelings and asking for help, the President said, "We're here to help you stay strong. Army strong. That's a commitment I'm making to you."
A Military Helpline exists that can be reached anytime at 1-888-457-4838. The National Suicide Prevention Lifeline also has a special line for veterans that can be reached when you call 1-800-273-TALK (8255). The Defense Department's website "Real Warriors" encourages service members and veterans to seek the care they need and offers videos, testimonials, and valuable information to help them do so.
What can we do?
When a person is suicidal, he or she is in a detached, disassociated state in which they are experiencing severe self-critical thoughts often telling them that they are no good, that they do not matter or that they don't belong. Soldiers often experience thoughts that they are a failure, weak, and to blame. When they return home, their self-attacks often increase. They frequently feel alienated from and at odds with the rest of society. The long absences and personality shifts that result from combat take a toll on their family relationships. This combination of factors is sure to increase soldiers' sense of being isolated and not belonging, all of which exacerbate suicidal attitudes.
At Fort Bliss, President Obama emphasized "that everyone has a responsibility to help a comrade who's hurting." Here are some things we can do to help:
Recognize the warning signs – There are warning signs for when a person is suicidal, but too often people aren't aware of them. Some of the signs include: disrupted sleep, isolation, loss of interest, extreme self-denial, lack of pleasure, intense self-hatred, feelings of not belonging or of being a burden to others, and suicidal talk ("You will be better off when I am gone."). They also include a significant increase in agitation. You can see a full list of warning signs here.By learning these warning signs, we are all much more likely to identify those at risk for suicide and reach out to them before it is too late.
Learn the helper tasks – Once we suspect a person may be suicidal, we must carry out a course of action that can help ensure his/her safety. We can engage a person by asking them directly how they are feeling and showing that we have real concern for them. We can then help this person develop an action plan that will keep them out of harm's way and get them to the help they need. When encountering someone we suspect may be suicidal, it's invaluable to know the list of helper tasks as well as the dos and don'ts of suicide prevention. In addition, someone who is feeling suicidal can learn coping strategies that can help them get through a crisis.
Don't let suicide be a silenced topic – If you are concerned that someone is at risk for suicide, it is important to ask them directly whether they ever consider suicide. By doing so, you are not planting the idea in this person's head but you are offering them the chance to open up about thoughts they may have been keeping from the world. Allowing someone to talk about these feelings is important.
Remember The National Suicide Prevention Lifeline If you or someone you know is in crisis or in need of immediate help, call 1-800-273-TALK (8255). This is a free hotline available 24 hours a day to anyone in emotional distress or suicidal crisis.
International readers can click here for a list of helplines and crisis centers around the world.
---
Tags:
military
,
military suicide
,
Suicide
,
suicide prevention