Love by any operational definition of the word (kindness, affection, respect, sensitive attunement, and shared companionship) is not only hard to come by, but strange as it may seem, it is even more difficult to accept and tolerate.  Most of us profess that we want to find a loving partner but what we wish for in fantasy is not necessarily tolerable in reality. The experience of real love often threatens our self-defenses and arouses our anxiety as we become vulnerable and open ourselves up to another person. This leads to a fear of intimacy. Falling in love not only brings excitement and fulfillment; it also creates anxiety and fears of rejection and potential loss. For this reason many people shy away from loving relationships.
Early in life, when we experienced rejection and emotional pain, we began to rely heavily on fantasy gratification as a coping mechanism.  Overtime, we came to prefer our reliance on these fantasy processes over actual personal interactions and positive acknowledgment. After being hurt in our earliest relationships, we fear being hurt again and are reluctant to take another chance on being loved.
The negative feelings we developed toward ourselves in our developmental years, became an established part of who we think we are. Therefore, when someone is loving and reacts positively toward us, we experience a conflict within ourselves between their view of us and our core identity. We then react with suspicion and distrust because our fear of intimacy has been aroused.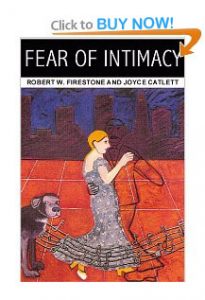 Existential issues also negatively impact our capacity to accept love and enjoy loving relationships.  When we feel loved and admired, we come to place greater value on ourselves, and in appreciating and prizing our lives more, we necessarily face more pain related to death's inevitability. We fear both the loss of our loved one and of ourselves, and in the process often unconsciously pull back from a love relationship.
Even though the fear of intimacy is a largely unconscious process, we can observe its effect on our behavior. We see it when we push away our partner and are refractory to their affection or positive acknowledgement. It is at play when we withhold the positive qualities our partner finds most desirable, thereby making ourselves less lovable. Our distancing behaviors act to reduce our anxiety, preserve our negative self-image and ultimately maintain our psychological equilibrium.
We can recognize the behaviors that are driven by our fear of intimacy and challenge these defensive reactions that preclude love. We can remain vulnerable in our love relationship by resisting retreating into a fantasy of love or engaging in distancing and withholding behaviors. We can maintain our integrity, learn to "sweat through" the anxiety of being close without pulling away, and gradually increase our tolerance for being loved.  By taking the actions necessary to challenge our fear of intimacy, we can expand our capacity for both giving and accepting love.