Imperfect Parenting: Rupture and Repair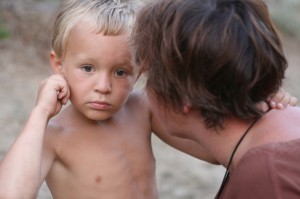 One of the things I know for sure as a parent is that I'm constantly being challenged to look at myself—my reactions, my intentions, my foibles and my regrets. Barely a day goes by that I don't reflect on some aspect of my interactions with my daughter. Many times I feel pleased about our relationship, and how I am with her. Not this morning.
As is typically the case, when I'm unsettled with myself, somehow that comes out as being unsettled with her. I've been feeling badly about the fact that I haven't been motivated to write, wasting away my hours reading, scouring sources with nothing of substance to show for it. I have that tendency, to accumulate information and not go anywhere with it, like a car spinning its wheels. No traction. Too much input, not enough output. Unfortunately for my daughter, she is very much like me. We can both wile away the hours lost in our reveries while the practical elements of life pile up like a highway collision.
For the second day in a row, she is home from school recovering from a respiratory illness. While too sick to be out in the cold, wet weather, she is well enough to do her schoolwork that has been, well, piling up. She retreated to my office to begin her work, and when I joined her an hour and a half later, she had nothing to show for her time. I flipped. "What have you been doing?!" You're not getting anywhere!" Blah, blah, blah. It was as if I was whipping her with my words. I was beyond exasperated and then realized that what I cannot stand to see in her, is what I cannot stand to see in myself.
I got a grip, and decided to actually try to be helpful. Realizing that she needed some structure and not my insanity, I gave her a specific task, which was to find the assignment for each subject. I had her decide aloud with me what her plan going forward would be. Then, I talked with her about my reactions, my own struggles in this area, what I would like to see in her, and apologized.
For us imperfect parents, there is good news, something that parenting and brain development expert Daniel Siegel, MD calls "rupture and repair." According to Siegel, ruptures are a break in the nurturing connection with a child and are inevitable. Some ruptures are more toxic than others (i.e. usually when a parent is in a state of emotional overreaction). If ruptures are not properly dealt with, this can lead to deepening problems in the parent-child relationship, and ultimately with the child's developing sense of self. While its obviously best to try to minimize toxic ruptures, ruptures can be repaired, and not all is lost.
Repair first and foremost, involves parental insight and awareness that then leads to a type of healing reconnection. For instance, for me it means noticing when I'm being emotionally reactive, stopping in my tracks and analyzing the situation. Next, I tune in to the experiences and feelings of my daughter. From here it's essential to find a way to communicate with the child so that he/she feels understood and regarded by you, the parent. This allows an opening for the noxious effects of the incident—shame, humiliation and any number of seething emotions—to dissipate.
We can't go through life being perfect parents. But we owe it to our kids and ourselves to be aware of our imperfections, limitations, and the effect on our kids, even if it involves choking down more humble pie than you can ever imagine.
I know this struggle isn't over for me and my daughter, but I hope I am one step ahead of myself so I can think before I react next time.
Tags:
communication with children
,
differentiation
,
talking to kids
3

Comments