A Happy Couple Makes for Happy Kids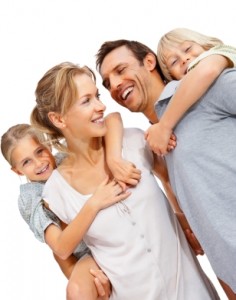 Everyone knows that a happy marriage makes for a happier you but most don't stop to ponder the psychological implications of a happy marriage for the children. Being loved by your partner and loving your partner in return makes you a happier, more cheerful being and this happiness is indubitably contagious. "The happiness and security that love brings can spill over, to our children's benefit," says Christine Carter, Ph.D., in her recent article "Why a Happy Marriage Makes for Happy Kids" (HuffingtonPost.com, 2011). In her article, Carter discusses a recent study presented at the last annual American Psychological Association meeting in which researchers Robert Epstein and Shannon Fox examined the top 10 most effective "parenting competencies" associated with children's health, success in school, happiness, and their relationship with their parent. Coming in 3rd in the list was "Relationship Skills" or the ability of the parents to maintain a happy relationship with their spouse as well as other people; 1st and 2nd were "Love and Affection" and "Stress Management".
"Here is what I think is amazing about that list: two of those three most important practices aren't even parenting skills per se," says Carter. It's important to model behaviors that we want our kids to adopt; and above all else, most likely, this includes how to form and maintain healthy relationships with others, romantic partners or not. It is important to note that this most definitely includes your child's other parent, even if you are not romantically involved with him/her, as well as your current partner. The biggest take-away message from Epstein and Fox's study, as well as Dr. Carter's article, is to remember that to make your child happy it's important to make yourself happy first, in your romantic relationships and as well as in your daily life… and your child's happiness should follow suit.
To read more about how improving your relationship happiness can improve your child's happiness, click here.
Tags:
good parenting skills
,
happiness
,
intimacy
,
intimacy issues
,
intimacy problems
,
marriage problems
,
parenting
,
parenting tips
,
relationship problems