Mindfulness – Liberation from Delusion
Watch and read our exclusive interview with Jon-Kabat-Zinn
So that's what mindfulness is and it doesn't involve doing.  It is a form of meditation practice and it's often spoken of as the heart of Buddhist meditation.  And the Buddha himself, you know, spoke about it as the sort of most fundamental path for the cultivation of liberation.  For the cultivation of freedom.  For the cultivation of freedom from pain and delusion and greed and hatred.  So these are all elements of life that actually, when we're unaware of them, drive us.  And we can get highly conditioned so that we don't even know that we're being driven by greed, hatred and so forth, delusion, because we're so deluded, it doesn't actually penetrate.  So mindfulness in that sense is, requires a certain kind of discipline because most of the time, we're practicing its opposite.  We have to practice cultivating mindfulness because, say if you're practicing cultivating irritability or anger or sadness or disgrunteledness or whatever it is, the more you practice, the better you get at it.  So after a while, you may be thought of by other people who probably won't tell you this, that it's not so much fun to be around you because you're, you know, sort of not at peace and people feel it because people are not insensitive.  We're incredibly sensitive barometers to other people's unspoken emotions and thoughts.  So, that's why I say it's as if your life depended on it.  It's a non-doing.  It's not like you have to do any work.  But it does require remembering to come back to the present moment over and over.
---
Order the Full DVD Interview: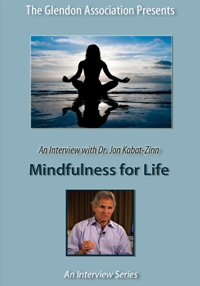 Mindfulness for Life: An Interview with Jon Kabat-Zinn
In this DVD, Dr. Jon Kabat-Zinn defines mindfulness as a way of "connecting to your life." He discusses the "hard work" of living in the present moment, the personal and psychological impacts of developing a practice of mindfulness, and the benefits of utilizing mindfulness in therapy. He also touches upon mindfulness in parenting. Drawing upon his years of experience and research in the field of mindfulness, Dr. Kabat-Zinn offers an inspiring and instructive approach for mental health professionals and curious individuals alike.
---
Tags:
depression
,
jon kabat-zinn
,
mindful meditation
,
mindfulness