How You Know When To Let a Friend Go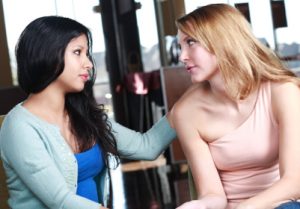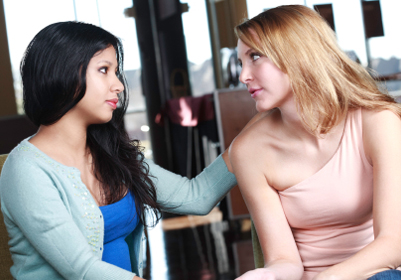 It was the night of my 23rd birthday when the friendship I had come to call my "best" quickly dissipated.  The night had spiraled out of control and I decided by the end of it that despite 10 years of friendship, we both needed to find happiness elsewhere.  Losing such a longtime friend was one of the hardest emotional processes I've had to go through, right next to the passing away of a high school sweetheart.  In letting go of a friend, you experience similar emotions as you do to one passing away: guilt, anger, sadness, and longing.  The only difference is when you let go of a friend, you have a choice.  Looking back, the signs are as clear as crystal that I was engulfing myself in an unhealthy relationship.  She provided companionship, attention, and a shoulder to cry on.  I have come to realize that sometimes the cons in the friendship outweigh the pros, and there comes a time when you need to put your well-being first.  Now, I am finally at the point where I can realize what was toxic in the relationship, and from that awareness, I have been able to establish healthier friendships. Hopefully what I have learned can help others to evaluate their friendships, even if that means letting a friend go.
Healthy friendships should ultimately help you grow as an individual and bring you happiness.  Sure, friendships are not always perfect but it's about asking yourself if your friendship is helping more than hurting.  True friends don't have to talk every day, they don't have to shower each other with lavish gifts, they don't get upset when you are unavailable, and they certainly don't call you names.  They are honest with you about your faults, and celebrate with you your successes.  I have found through personal experience and research that there some serious signs that a friendship may be unhealthy.
You feel as if you are being judged:
It is completely normal for you and a friend to have different views or lifestyles, and this can be healthy to help one another learn and grow.  In an unhealthy relationship, one may feel their choices are being patronized rather than considered.  There may not be a definite right or wrong answer to the life decisions you are making, yet you feel the judgment from a friend is altering your perspective and changing your better judgment.  Once you've experienced a certain amount of judgment, you begin to rethink confiding to your friend about certain things, resulting in a lack of trust and communication.  Friends should embrace one another's life path rather than patronize it. If a friend is self-destructive, it is still not appropriate to be judgmental or patronizing; rather it is constructive to be direct and honest in expressing your concern for their welfare.
You feel as if it is always your fault:
Do you notice that every time something has gone wrong in your friend's life, it happens to be someone else's fault?  Including yours?  This type of friend has become an expert at how to convince you that you are to blame, or maybe you are resorting to submissiveness because you feel you just can't win.  In my past friendship, I was often called a terrible best friend because I couldn't drive three hours for a function, or I changed plans at the last minute.  I ended up feeling so much guilt that I would give in to whatever was being asked of me.  To me, the friendship was too important to stand up for myself.  By doing so, I was drowning in the guilt and losing sight of what I truly wanted. Unfortunately, blamers usually perceive themselves as victims and do not see anything wrong with what they are doing. Often times believes that they are helping you to become a better person or friend, when in reality, your self-esteem is in jeopardy.
You feel as if you cannot fully trust them:
Maybe your friend spread a rumor about you, or maybe told a secret that you desperately wanted them to keep; either way, things have happened in the relationship that have destroyed the trust.  When this trust is broken repeatedly, it is a huge red flag that this friend is inconsiderate of your feelings and is possibly just looking for attention at your expense.  It got to the point where I was scared to be in a group setting with my friend for fear that she would bring up something embarrassing from the past, which became pretty normal.  A healthy friendship consists of two people who build each other's confidence by speaking of their amazing attributes, rather than breaking one another down by public humiliation.
Judgment, blame, and a lack of trust are three of the most prominent characteristics of an unhealthy relationship because of the power that they have on an individual's esteem.  If you notice that these are common occurrences in your friendship maybe it's time to step back and reevaluate what you need from a friend.  Is the friendship causing you more stress than pleasure?  Do your other friends and family enjoy being around your friend?  There comes a point in life where you need to put yourself first, and if this friendship hinders you from doing so and makes you feel "selfish" maybe it's time to slowly ease yourself away from that person.  I am not advocating ending a friendship immediately because you see a couple of negative characteristics; but if the friendship makes you feel worse about yourself rather than better, then chances are it is unhealthy for your development as a person.
Though I have not spoken to my friend in almost a year, I still think about her often.  I reminisce on the great times, and I do not feel anger for what took place throughout the years.  I realize that we are all different and that is the beauty of being individuals.  She has amazing qualities, as do I, but our qualities were not in sync which eventually led to an unhealthy relationship.  Just because you let go of a friend does not mean the caring stops, it just means that you have chosen to put yourself first.  When we let go of a friend, it does not mean that we are eradicating the impact that they have had on our life.  They were meant to be there for that time period in our life and meant to teach us.  From every friendship come valuable lessons, and once the pain of losing that friend ends, we can appreciate the beauty it held.  Once you let go and embrace the friendship as part of the past, you better understand the qualities you wish for in a friend for the future.
Tags:
cynicism
,
friend
,
friendship
,
relationship issues
,
student
,
students
13

Comments