An Apple (computer) For the Teacher: Navigating Homeschool, While Keeping Your Social Distance and Sanity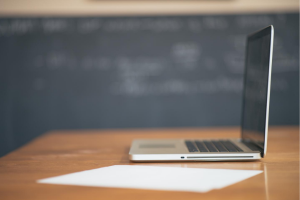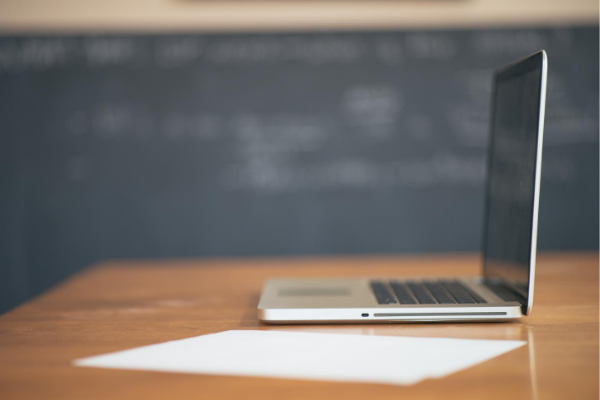 "You can't always know the end from the beginning." This is advice that my mom has been giving me for years. My inclination, as a planner, has always been to shrug it off and roll my eyes…until I had to start telling my college sophomore and rising high school senior the same, in preparation for the 'Covid-19 back-to-school edition'. Her words not only resonated at this point, but they were a guide post and springboard for our collective journey into the unknown – our not so new normal at this point.
After failed attempts at reopening businesses and schools across the country, numerous organizations and districts are going back to the drawing board, trying to put plans in place to create better infrastructure that will effectively address the needs of every demographic, especially the most vulnerable. Caretakers all over the country are engaged in 'design-star-esque' social media challenges to inject some levity into the daunting job of homeschooling, for which they never made application. Many are being forced to exercise an epic level of patience and fortitude as we venture into unchartered territory of hybrid and virtual learning models.
Amid coronavirus pandemic, we're experts at mitigating risks with masks, hand sanitizer, social distancing, and living our lives in 14-day increments. But maintaining our sanity, avoiding burnout, and practicing good mental health hygiene is inner work that cannot be taken for granted if we want to get through this unscathed. 5 ways to be more intentional include:
Accepting that everything is not fine: You're experiencing a normal human reaction if you feel unsure of what to do, frustrated, anxious, worried, fearful, ashamed, guilty, or depressed. Speaking of feelings, we're all at a LOSS right now. We've LOST lives, jobs, milestone events, and the ability to live life as we typically know it. Our movements are restricted. And there is sooo much that is cancelled. If you're human, you will have some type of reaction to 'losing something'. So, that's why you might find yourself feeling like you 'have it all together' one day, and then feeling so SAD, TEARFUL, and like EVERYTHING IS FALLING APART, the next. You may reach the end of a week and look back on it feeling productive. And then the next you may feel like you barely moved, remaining stagnant with no motivation. Embrace the ebbs and flows of this time with grace for yourself and others. Use your available energy wisely.

Expecting many unknowns: Author Mitch Albom said, "We might be ready to move on, but COVID-19 isn't." In a recent article, he discussed the fact that the silent enemy that we're facing is not necessarily covid, but our patience. Unwillingness to wait predisposes us to making rash decisions that can have detrimental consequences. Expect that problems in life are inevitable. We can't prevent life circumstances, last minute decisions, and unexpected cancellations. But we can control the way we respond to the curve balls that life throws our way. Always ask yourself, "Will this even matter tomorrow, next week, next year?" And surround yourself with people who do the same.

Reaching in: One veteran English teacher of 23 years [my husband] suggested that working ahead is something that we CAN control, because most of the classwork is posted in advance. Another practice we get to determine is our self-care. Give yourself permission to pencil it in like you would any other important appointment. Adopt a healthy lifestyle. Create a schedule and designated work areas. Achieve work/life balance or work/life integration – so you're able to be present at the most important times, and with the most important people. GET SOME SLEEP! 7-8 hours per night is optimal! Our immune systems will thank us. Don't forget to clap for yourself. Be your biggest fan. Above all, remember to fill your cup first, because if you do not, then you are of no good to anyone else.

Reaching out: Many of you aren't affected by the stigma of seeking mental health care. If you've engaged in services before, then you know what signs and symptoms to look for. But if this is something new to you, the best way to gauge your mental health is by your daily functioning.  If your moods, emotions, and behaviors are affecting your daily functioning and the roles you're responsible for filling, then there is something wrong, you're not handling it on your own, and you need to reach out to someone for help. Never be too proud or ashamed to speak with a friend, therapist, life coach, or professional. Join groups. Create groups. Tap into all of the community and school resources that are available. Remember that the helpers are also navigating this time as you are, so everything may not be simply handed to you. One daughter [@nyla_danae] posted, "To students starting school today, Please be nice to your teachers. My dad is 53 years old, and not a whiz with technology. He's called me EVERY day, attempting to practice because he's so nervous and wants what's best for his students. Please be patient with them. They're trying." A simple ask or purposeful scour might be what you have to be willing to do. Once you get new information, incorporate it, maximize it.

Modeling: Whenever I've been on an airplane that is experiencing turbulence, I take my cues on how to respond from the flight attendants. If they're casually passing out cranberry juice, and adroitly taking measures to make sure the contents of their cart remain stable, I'm comforted. But if they abruptly pause service and strap into their seats as well, I'm unsure, uncomfortable, and afraid of what's to come. According to Psychologist Albert Bandura and his social learning theory, we observe and model the behaviors, attitudes, and reactions of others. Put quite simply, your children, even the adult ones, are watching you. They're not too young to put all of the aforementioned into practice, because they will automatically do what you're doing anyway. Think about past experiences, and use the strengths that you've gained. Let's normalize coping under pressure and apply it in the shaping of our actions.
COVID has forced us to sit with ourselves. It's been a lot to digest, daily. COVID has exposed those who've never been told "NO" in their lives. COVID has caused us to rethink our way of BEING. And despite all of the tragedy, to consider healthier alternatives going forward is not the worst idea.
I read a post not long ago that said, "Sure, lockdown poses its own challenges. But can we please stop pretending our former world of long working hours, stressful commutes, traffic jams, hectic crowds, shopping centers, infinite choices, mass consumerism, air pollution and 24/7 everything was a mental utopia."
Although we can't 'know' the end from the beginning, we can always choose to take cautiously optimistic (baby) steps ahead, one day at a time. It's intentional. Here's to being lifelong learners and appreciating the lessons we'll grow from and never forget!
Tags:
covid-19
,
pandemic
,
parenting
,
parenting advice
,
parenting problems