On-Demand Webinars
Five Forces That Destroy Relationships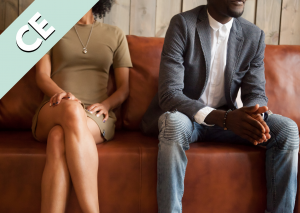 ---
In this Webinar: 
Reasons why this webinar may be perfectly suited for you.
Your relationship may be stuck in pandemic paralysis—too good to leave, but too bad to stay.

You may have lost that original deep connection and long for a way back to the closeness you once shared.

You could even be secretly bored with your mate and wonder if they are bored with you, too.

You may be one of many couples who no longer suffer in silence but voice their complaints on a daily basis through criticism, bickering, ridicule, and anger.

One of you may be walking on eggshells or constantly needing to watch what you say for fear your partner will blow up.

You may be exhausted from the arguments and live with a growing suspicion that what you are arguing about is not what you are arguing about; that the issues may be greater than the petty topics you chew on.

You may realize something is threatening your love, but you can't quite identify it.

You may have a desire to understand what went wrong in a relationship from the past in order to prevent it happening again.

You may simply be a lifelong learner eager to gain new ways to keep relationships happy and healthy.

You may be in a marriage that looks good on the outside but lacks passion on the inside. You silently dread the future if your love continues this ominous disastrous decline.
If you have interest in comprehending relationships from a systems perspective, this webinar is for you. If you want to be able to understand and improve any relationship, this webinar is for you. If you want to gain insight about a relationship that went awry in the past, this webinar is for you. Dr. Pat Love applies her 40 years of clinical experience and the latest research to this very practical, and sometimes humorous, presentation designed to make all listeners more informed and enthused.
Learning Objectives:
Identify two underlying systems correlated with functional relationships.
List two strategies for improving a relational system.
Explain how an insecure system can destroy a relationship.

Ordering Information
Once payment is received, you will be emailed a full video recording of this webinar along with all presentation materials.
Optional 1.5 CEs may be purchased through R. Cassidy Seminars. A link to purchase CE Credits will be included in the email containing all your webinar resources. More Info Here
Continuing Education Information
Optional 1.5 CEs may be purchased through R. Cassidy Seminars. A link to purchase CE Credits will be included in the email containing all your webinar resources. More Info Here