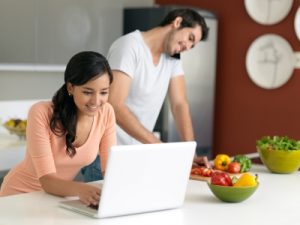 There has been much speculation that we live in an increasingly narcissistic society. And hard statistics aside, it's easy to imagine this could be the case. The "look at me" mentality seemingly promoted by social networks like Facebook has people positively enamored with the image they present to the world. When did all this posting and blogging turn into boasting and bragging? And how does this new public exposure impact our personal relationships?
Narcissistic relationships are formed when one or both partners struggle with a narcissistic personality. Narcissistic Personality Disorder is defined by The Mayo Clinic as "a mental disorder in which people have an inflated sense of their own importance and a deep need for admiration. Those with narcissistic personality disorder believe that they're superior to others and have little regard for other people's feelings. But behind this mask of ultra-confidence lies a fragile self-esteem, vulnerable to the slightest criticism."
A relationship with a narcissist can be hard to cope with. To shed light on the common outcomes, struggles, and effects of a narcissistic relationship, we've interviewed psychologist and author Dr. Lisa Firestone.
How Can You Tell if You Are in a Narcissistic Relationship?
When thinking about narcissism, I'm often reminded of the joke when someone goes on and on about themselves, then interrupts with, "But enough about me, how do you feel about me?"  If your partner is all about themselves, always needing attention and affirmation, he or she may be a narcissist. If someone is easily slighted or dramatically reactive to any criticism, they may also be a narcissist. If they feel they are always right, that they know more, or that they have to be the best, etc., these may also be signs of their narcissism.  Narcissistic individuals may only appear to care about you when you are fulfilling their needs or serving a purpose for them.
Why do people become narcissistic? Is it a symptom of something else?
Narcissistic people often have narcissistic parents, who offered them a build up but no real substance. Their parents want them to be great, so they can be the parent of a great person, the best artist, smartest student, etc. Often narcissistic people were also neglected, as their narcissistic parents were so focused on themselves that they could not attune to their child or meet their child's emotional needs.  The child was only useful to these parents when they were serving a purpose for them. Often, the parents of a narcissistic person alternated between emotional hunger toward the child and disinterest.
Narcissists have inflated self-esteem (both self-soothing and self-aggrandizing "voices") a component of what my father, Dr. Robert Firestone, refers to as the "anti-self." They are very fragile, because the flip side of their self-aggrandized demeanor is very low self-esteem, the other component of the anti-self (made up of extremely self-hating and self-demeaning "critical inner voices"). So, for these people, even slight criticism can be a narcissistic injury, leading to outburst and desperate attempts to regain their fragile, inflated self-esteem. Often, a condescending remark will help them to reestablish their superior image.
Do you think people are more narcissistic in general today, given the rise of social media platforms such as Facebook, etc?
There have always been narcissists.  I think new social media just provides platforms for narcissists to get their needs met by providing a forum to get attention, to show off, to become self-absorbed, documenting one's every move, showing oneself always in the best light, exaggerating accomplishments, etc. Social media provides a large audience for a narcissist. Thus, these platforms appeal to a narcissist's image and need for constant validation.
How does a narcissistic partner negatively impact a relationship?
A narcissistic partner will have difficulty really loving, because they don't truly love themselves.  They are so focused on themselves, self-absorbed and self-interested, that they cannot really "see" their partner as a separate person.  They tend to only see the partner in terms of how they fill their needs (or fail to fill their needs). Their mates and children are only valued in terms of their ability to meet these needs.  Narcissistic partners often lack the ability to have empathy with their partners' feelings.
People may be drawn to a narcissistic partner, especially at the beginning, as they tend to have a "big" personality. They can be the life of the party, attention-seeking, fun, and aggrandizing to associate with, making you feel that you too must be great for them to be with you. However, in time, they can be directive and controlling in relationships. They may feel jealous or easily hurt.  When narcissistic injuries occur, they often lash out and can be very cutting.  Their reactions are dramatic and attention-seeking.
When you are in a relationship with a narcissist, you may feel very lonely, as if you are just an accessory, and as though your needs and wants are unimportant.  Narcissistic partners act as if they are always right, that they know better and that their partner is wrong or incompetent, leaving the other person in the relationship either angry and trying to defend themselves or identifying with this negative self-image and feeling badly about themselves.
Read: Is There a Cure For Narcissism
What are some things a person can do to deal with a narcissistic partner?
When you've entered into a narcissistic relationship, you can first recognize what you have chosen and reflect on what unconscious motives might have led you to choose such a partner. Did you have a narcissistic parent?  Are you more comfortable with your partner being in control, so you can then take a more passive position? Do you get a sense of worth from being attached to someone who is drawn to the spotlight?  Does the negative image of yourself they foster with their criticisms and superior attitudes resonate with your own critical inner voices?
Understanding your role in the relationship is important.  You can then start to challenge yourself to change your half of the dynamic. This will, in turn, challenge your partner to change their style of relating.  You can recognize the fragility of your partner's self-esteem and have compassion for the fact that his or her inflated sense of self, superiority and grandiosity is a cover up for the flip side of self-hate and feelings of inferiority.   In all encounters, act equal, and treat your partner as an equal.
How can people face and overcome their own narcissism?
A narcissist can challenge and overcome their narcissism by recognizing and separating from both the self-soothing and self-attacking attitudes promulgated by their critical inner voice, attitudes they internalized early in their lives. They need to recognize and challenge these attitudes toward themselves and toward others. One method for doing this is through Voice Therapy.
Narcissistic individuals further need to differentiate from negative traits of their parents or early caretakers that they are manifesting in their current lives. These traits might include superior attitudes and condescending behaviors.  Narcissistic people also need to relinquish adaptations they made to the ways their own parents neglected or were emotionally hungry toward them. These adaptations may have once served as survival mechanisms, but they now manage to push others away and sabotage personal goals. This includes breaking withholding patterns of behavior and fighting the tendency to always compare oneself to others and the need to be the "best" all the time.
Narcissistic individuals need to challenge manifestations such as self-feeding habits and a pseudo-independent stance. They need to focus on developing their capacity to empathize with others and respect their sovereign minds.  Lastly, they need to develop transcendent goals, to care about and invest in others' wellbeing. Being generous and giving to others are examples of behaviors that would be corrective, building real self-esteem and practicing focusing outside of oneself.