On-Demand Webinars
Fundamentals of Anxiety and How to Tame It: A Holistic Approach
Length:
3 Hours (Two 90-Minute Sessions)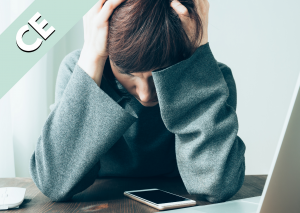 ---
In this Series: 
Dr. Michael Mantz will explore the most recent neuroscientific research to provide you with the latest insights into the fundamental issues that create and modify anxiety.
Next, he will take these insights and translate them into practical clinical strategies that you can use to expand your repertoire on how to work with anxious people and with your own anxiety – with an emphasis on integrative healing methods. 
In the first part of this series, Dr. Mantz explores the most recent fundamental theories and research regarding the development of maladaptive forms of anxiety. He will explore core features that go into the creation, amplification, and maintenance of unhealthy anxiety. 
Next, he will focus on the latest research using biological methods including: nutrition, body movement, supplements, and sleep in order to effectively reduce unhealthy forms of anxiety. He will relate his own clinical experiences regarding what he has found works best for his patients.
In the second part of this series, Dr. Mantz will focus on the psychological underpinnings that impact anxiety. He will elucidate the importance of attentional skillfulness, emotional regulation, cognitive biases, defense mechanisms to provide the core backbone knowledge needed to construct a comprehensive integrative approach to help you work with anxiety more effectively. He will guide you into a couple of brief attentional and breathwork practices that he commonly uses with his patients.
This series will include:
Part 1 – Understanding Anxiety
Part 2 – How to Work With the Anxious Patient

Learning Objectives for Part 1
1) Describe the main characteristics of anxiety and how to use these characteristics to help formulate strategies to improve anxiety responses.
2) Outline the main 2 neuroendocrine systems involved with the stress response  and how to use this information to rebalance our body & minds towards a healthier relationship with anxiety.
3) Define how sleep disturbances increase the development of anxiety and vice versa. Explain how they are related to each other and what strategies you can use to improve your sleep-in order to improve your anxiety responses.
4) Practice biological strategies that have been shown to promote healthier anxiety responses utilizing exercise, nutrition & supplements and from Dr. Mantz' clinical experiences using an integrative approach in his practice.
Learning Objectives for Part 2
1) Define the top 2 primary emotional systems and top 3 secondary emotional systems that comprise the root emotional network underlying most anxiety disorders.
2) Describe how developmental experiences  across the lifespan can create. increased attachment insecurity AND emotional & attentional dysregulation that can increase the frequency & intensity of unhealthy anxiety.
3) List the predictive coding model – which describes how we sense our bodies and perceive the world. and learn how the predictive coding modelis related to the attentional control model.
4) Practice how to use attentional training, breathwork, interception skills to promote greater resilience in the face of challenges, reduce unhealthy anxiety and increase overall well-being.

Ordering Information
Once payment is received, you will be emailed a full video recording of this webinar along with all presentation materials.
Optional CEs (3) may be purchased through R. Cassidy Seminars. A link to purchase CE Credits will be included in the email containing all your webinar resources. More Info Here
Continuing Education Information
Optional CEs (3) may be purchased through R. Cassidy Seminars. A link to purchase CE Credits will be included in the email containing all your webinar resources. More Info Here