On-Demand Webinars
Make Sense of Your Past to Empower Your Future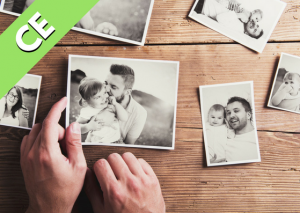 In this Webinar: 
Sparked by Bowlby's original insights, attachment research has revolutionized our understanding of human development, the internal world, and the consequences of development gone awry. No other empirically-based theory tells us more about how we become who we are – and how to change who we have become.
We all carry around deep wounds, behaviors, and beliefs about ourselves and others from our earliest attachments, which unconsciously direct our lives. Research shows that when people fail to make sense of their past, they find themselves reliving and recreating it, essentially re-experiencing old hurts over and over again. Attachment research demonstrates that making sense of the past is the best predictor of our ability to shape our future.
This Webinar will introduce the tools for you to dig deep and resolve old traumas, big and small, so that they no longer haunt you. For mental health professionals, it will provide strategies to apply these tools with your clients. This workshop will draw upon the latest attachment research and outline the process of writing a coherent narrative. Research in neurobiology shows that when a person writes a coherent narrative, they actually rewire their brain to feel more secure within themselves and their relationships. In addition, creating a coherent narrative contributes to developing earned secure attachment.
Learning Objectives:
Participants will be able to:
Explain how child attachment patterns continue to affect people throughout their lives.
Describe, using cutting edge neurobiological research, how clients can rewire their brains to feel more secure.
Discuss how a patient, through the process of psychotherapy, can develop an earned secure attachment in adulthood.
Access step by step guidelines for how to help clients develop a coherent narrative for their life.
Ordering Information
Once payment is received, you will be emailed a full video recording of this webinar along with all presentation materials.

Optional CEs (2) may be purchased through R. Cassidy Seminars. A link to purchase CE Credits will be included in the email containing all your webinar resources. More Info Here
Order Now
Continuing Education Information
Optional CEs (2) may be purchased through R. Cassidy Seminars. A link to purchase CE Credits will be included in the email containing all your webinar resources. More Info Here
5

Comments