Confessions of a Shopoholic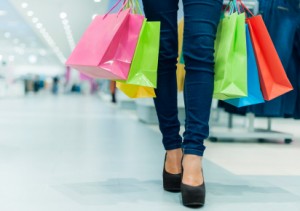 Crystal is a power shopper. She arrives at our lunch wearing a $2,300 white, billowy Donna Karan shirt for which she paid only $180. She tries to play down the label "shopping addict," which her friends accuse her of being. She is, she says, a collector – a collector of fine clothing. The whole obsession thing is "very overdone," she declares. Besides, the allure of fashion is "everywhere in the media." She shoots me a cool glance and continues, "It's like they're waging psychological warfare!" To those who describe her favorite hobby as trying to replace a missing part of her, an empty hole she fills with material possessions, she points out, "You can be interested in aesthetics without being superficial. They are not mutually exclusive."
With that, she tosses her neat, dark hair back over her shoulder. Through the large picture window in the Detroit restaurant, I saw her pull up in her black vintage T-bird. She strode in wearing a pair of form-fitting pearl grey walking shorts and the voluminous Donna Karan top. In her early 30s, unmarried and financially successful, Crystal is a strategy and operations consultant for one of the Big Four consulting firms. She is beautiful and perfectly appointed. Although Crystal stresses that paying her bills is not a problem, she says her Saks card is "a monkey on my back."
Alcoholism, gambling addiction, and drug use may be more highly publicized, but a shopping obsession, at its core, carries the same burden of recovery. It is estimated that 17 million Americans – that's 1 in 20 – have an uncontrollable urge to shop. Farmington Hills psychologist Susan Gottlieb, Ph.D., says, "shopping problems can be extremely destructive to a person's life." "People have a tendency to rationalize their addictive and compulsive behaviors to make them seem okay to themselves and others. For example, it is not uncommon for someone who spends excessively and is in financial ruin to identify him or herself as a 'collector' to make the spending habits seem acceptable."
Crystal does concede a drawback to her investment analogy. "The problem with fashion trends is that they are cyclical, so the satisfaction is very short-lived. There's always going to be that next great bag or well-made dress. It's hard." Crystal also reveals that her three-bedroom closets are filled with designer clothing; the planned obsolescence of trends necessitates seasonal buying, and resisting the desire for new attire can be tough. "This is a force or an urge you have to learn to manage," Crystal offers. She finds not going to stores is the best way of not buying. American consumers are having trouble heeding Crystal's advice. Although June's overall retail sales figures fell short of projections, department store sales rallied, with Saks Fifth Avenue's numbers rising 5.3 percent higher than a year ago, well above analysts' 1 percent prediction. Another big winner was Nordstrom.
Eating disorder specialist, Linda Schonberg, Psy.D., says shopping is sometimes used to assuage the feelings of an emotional vacuum. "Shopaholics fill their shopping carts in a futile attempt to fill their souls," she explains. "Their endless search for the perfect sweater, shoes to match, and just the right necklace, however, does not seem to quench their insatiable thirst for love and acceptance from self and others."
To a large extent, Crystal blames the celebrity culture in which we live for the emphasis on shopping and fashion. "There is a pop obsession with celebrities and what they're wearing," she says. And, with so much attention in the media on the everyday minutia of the rich and famous, "people are far more knowledgeable about what's new and what's hot and want what celebrities have," Crystal acknowledges. "It is the result of the glorification of celebrity."
The person who has real style, says Crystal, is the person who can look like a fashion icon on a budget. A committed bargain hunter, Crystal says the deal is where her passion really lies. She claims she would never pay full price for a designer item, preferring instead to spend her time pouring over discounted offerings at Neiman's Last Call or the Saks sales bin. Nor would she stoop to buy poorly made clothing.
Along with her most beloved couture designers – Balenciaga ("cutting edge and unique, pure art"), Lanvin ("absolutely elegant"), Tuleh ("romantic") and Dsquared2 ("casual funky") – Crystal listed the best designer outlets across the country, including those in Woodbury Commons, New York, and Auburn Hills, MI. One of her favorite bargains so far is a pair of Helmut Lang shorts that she found at another favorite outlet store, Manhattan's Century 21, the mecca for bargain aficionados. "It is a rush to get a great deal on a unique designer piece," she gushes. "I know I could be saving a lot more, but this is my pastime and I enjoy it." But could she stop if she wanted to? "Yes," she states affirmatively. "When I get married or when I have kids, I feel like I'll do better."
This first appeared in Ambassador Magazine, Detroit, Michigan
Tags:
addiction
,
compulsive shopping
,
habits
,
shopping addict
,
shopping addiction