Books
The Ethics of Interpersonal Relationships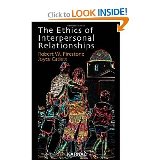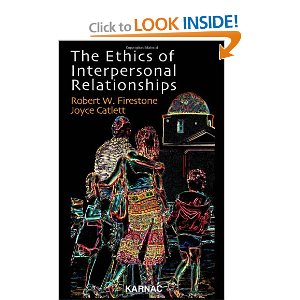 by Robert W. Firestone, Ph.D.
Joyce Catlett, M.A.
Forward by Jon Carson PsyD, Ed, ABPP.
This work is an attempt to explain the source of destructive behavior and how it manifests itself in personal relationships between couples, families and in the social arena. It presents a position that offers a hope of altering the destiny of humankind's unethical behavior.
From the Authors' Introduction
'Our inspiration for writing this book springs from a deep feeling for people and a grave concern that without a proper understanding of the reasons for their inhumanity in relation to one another and the development of a compassionate world view, it is likely that human beings may eventually destroy themselves and life on the planet. This work is an attempt to explain the source of destructive behavior and how it manifests itself in personal relationships between men, women, couples, and families, and in the social arena. We present a position that offers a hope of altering the destiny of humankind's unethical behavior through better psychological understanding and education. Understanding the source of a person's aggressiveness in defending the fantasy bond and learning to cope with the voice process have strong implications for child-rearing and better mental health practices. Identifying destructive behaviors and faulty programming in family life and society, developing insight into the relationship between defenses and aggressive responses, and offering a method to counteract destructive trends constitute a challenge to what many people consider to be humankind's basically unethical nature.'
"This wonderful book rescues ethics from the dusty shelf of rules and abstractions. With sound scholarship, fresh thinking, and a friendly voice, Firestone and Catlett help us confront the most urgent questions of human existence and our relationships with each other. An invaluable resource to learn from, argue with, and think through who we are and want to be."
Kenneth S. Pope, Ph.D., ABPP Diplomate in Clinical Psychology
Author (with Melba Vasquez, Ph.D., ABPP) of * *Ethics in Psychotherapy and Counseling: A Practical Guide, 3rd Edition*
2009, Karnac Books
ISBN: 9781855756052